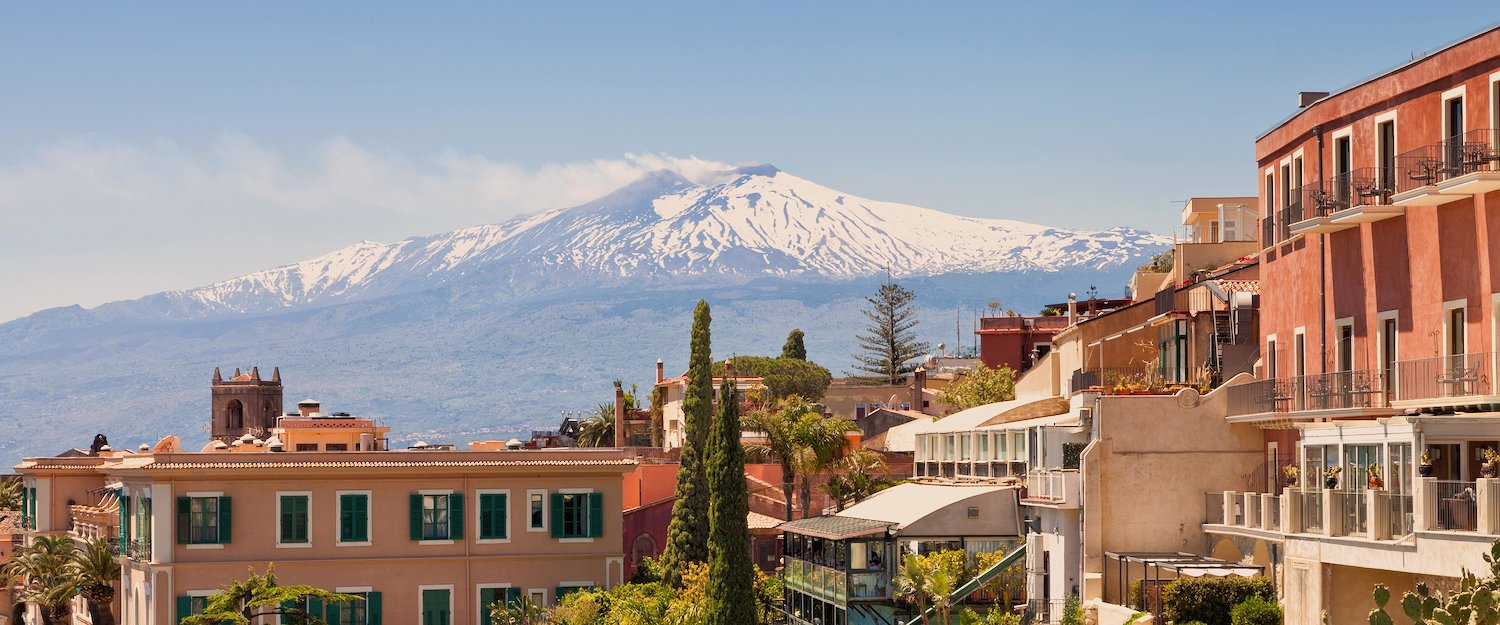 Holiday Homes & Baches in Sicily
Start comparing over 27694 rentals in Sicily and book at the best price!
Holiday Rentals and Lettings in Sicily
Find Holiday Rentals & Lettings in Sicily
Highlights in Sicily
Picturesque villages
Crystal blue waters
Luxury for your senses
Stunning Sicilian nature
Etna volcano
Prices and availability
Prices
June
July
August
September
October
Average price per week
Availabilities
June
July
August
September
October
Percentage of available homes
Holiday homes and baches in Sicily
Apartments and luxury houses in and around Sicily
Are you looking for a perfect holiday by the warm Mediterranean Sea? Then look no further than Sicily, a southern Italian island famous for its food and stunning coastline. For the most stylish and famous of all Sicily resorts, head for the luxurious resort of Taormina in the west, or for a more low-key beach holiday, the village San Vito on the east of the island is a picturesque village of white houses with a spectacular beach framed by mountains.
Holiday homes to suit all tastes
Sicily offers all kinds of accommodation, from beautiful luxury villas for large groups, to seaside apartments for couples. Most rental options are in coastal towns and villages, with a small number inland. The area from Catania to Taormina offers a wide range of villas, often with pools and gardens, and views overlooking the sea and the biggest mountain in the island, Mount Etna. The capital city Palermo offers some wonderful homes in traditional Sicilian Baroque buildings.
Holidays in Sicily
The area and getting around
Beach resorts for everyone
An island in the south of Italy, Sicily's coastline stretches over 1,000 km, and is surrounded by the crystal blue waters of the Mediterranean Sea. Sicily's golden sandy beaches, its charming little coves, and quaint yet bustling coastal homes resorts give the island a special holiday atmosphere. For Italian chic, the north and east of the island offers boutique shopping and fancy restaurants, with the south west of the island the destination of choice for those who want to relax in tranquil surroundings.
A paradise for the taste buds
The island is renowned for its wide range of culinary options. The cuisine in Sicily derives from a mixture of cultures, including Greek, Roman, and Arabic, which have inhabited its land since the ancient times, turning it into a hub of culinary innovation. Head to the west of the island to Hostaria San Pietro, an extremely popular restaurant in the seaside town of Trapani. The menu is handwritten on a sheet of paper and only contains food that is fresh that day from the markets and boats.
Travellers and activities
Sicily for honeymooners
If you are seeking the perfect destination for a romantic honeymoon, then look no further! Sicily is a dream destination for lovers and newlyweds, with stunning natural surroundings, countless restaurants with dazzling views and the unique romantic atmosphere of an Italian island. Take a sunset walk along one of Sicily's many pristine beaches or explore the nooks and crannies of the architectural marvel of Sicily's capital Palermo. In the evening spend a romantic evening at the opera at the Teatro Massimo. Whatever you chose to do, Sicily is a place to celebrate your love!
Sicily for families
Sicily is very much a family-friendly destination. The island offers child-friendly excursions, various theme and adventure parks and even an active volcano you can explore together. Why not go horse riding on the beach at sunset? Located on the east of the island, Sicily Horse Riding tours can give your entire family memories to cherish for years to come. At Monti Rossi Adventure Park, your children can discover their inner Tarzan as they climb, swing and zip-line to their heart's content.
Sicily is the birthplace of Archimedes, a famous mathematician and father to Archimedes principles, which are taught in schools worldwide to present day!
Top 5 travel tips in Sicily
1.Explore Mount Etna on a donkey
Donkeys have a long history of living in Sicily. With the company Etna Donkey explore the highest volcano in Europe with these docile, strong, and faithful animals, which take you up the winding paths of Mount Etna.
2. Take a two wheeled tour around the island
Explore the stunning Sicilian nature by bike. You can peddle down narrow lanes, along olive groves and through quaint little villages, with bicycle rental shops located all over the island.
3. Learn about the island's fauna
Bioparco Di Sicilia is not just an ordinary zoo. It promotes environmental and conservation awareness to its visitors and showcases over 50 species of animals for the zoo's visitors to marvel at.
4. Cool off at EtnaLand waterpark
With Mount Etna in the background, this waterpark offers a variety of amusement rides and waterslides for families and adrenaline junkies alike. For a more relaxing atmosphere, you can simply float on a rafting river or swim in the largest wave pool in Europe.
5. Take in a puppet show
The traditional art of puppetry has been practiced here for generations and is passed down to Sicilian children. In the puppet theatre in Syracuse, you can enjoy some exquisitely dressed dolls as they perform their hilarious show.
FAQs: Holiday Rentals & Lettings in Sicily
What was the average price for a holiday rental in Sicily in 2020, during the corona crisis?
Based on its annual average price of NZ$163.05, Sicily is not a region that stands out as being the most expensive or the cheapest in Italy.
When are holiday homes and baches cheaper in Sicily?
If you would like to save as much as possible during your visit to Sicily, pack your bags and travel there in February (NZ$167.14 per night on average), January (NZ$172.01), or March (NZ$176.27) to find the lowest prices for the whole year.
When does the price of holiday homes in Sicily go up the most?
It can be concluded, analysing the data for the year 2020, that the costs per night for accommodation is usually higher, on average, during the months of August (NZ$274.32), July (NZ$261.01), and June (NZ$237.62).
Is Sicily a good location for a spontaneous getaway?
Here, last-minute travellers are welcome, since the average availability in Sicily is 63%, which is above the average for this country, according to data from 2020.
Which months offer the highest availability?
May, April, and June are, in order of highest to lowest, the months offering the largest number of properties available, with respective average availability figures of 74.4%, 71.5% and 69%.
During which months are there fewer holiday homes available in Sicily?
The month with the highest average booked rental figures is August (only 32.8% of properties were available on average in 2020). Followed by July (52.75%), and September (63.25%).
How many holiday baches are available in Sicily?
In Sicily we collaborate with 63 different providers to give you a choice of 36000 properties, so you will not be short of options!
Holiday destinations nearby
Holidu compares hundreds of websites to find your perfect holiday rental for the best price.