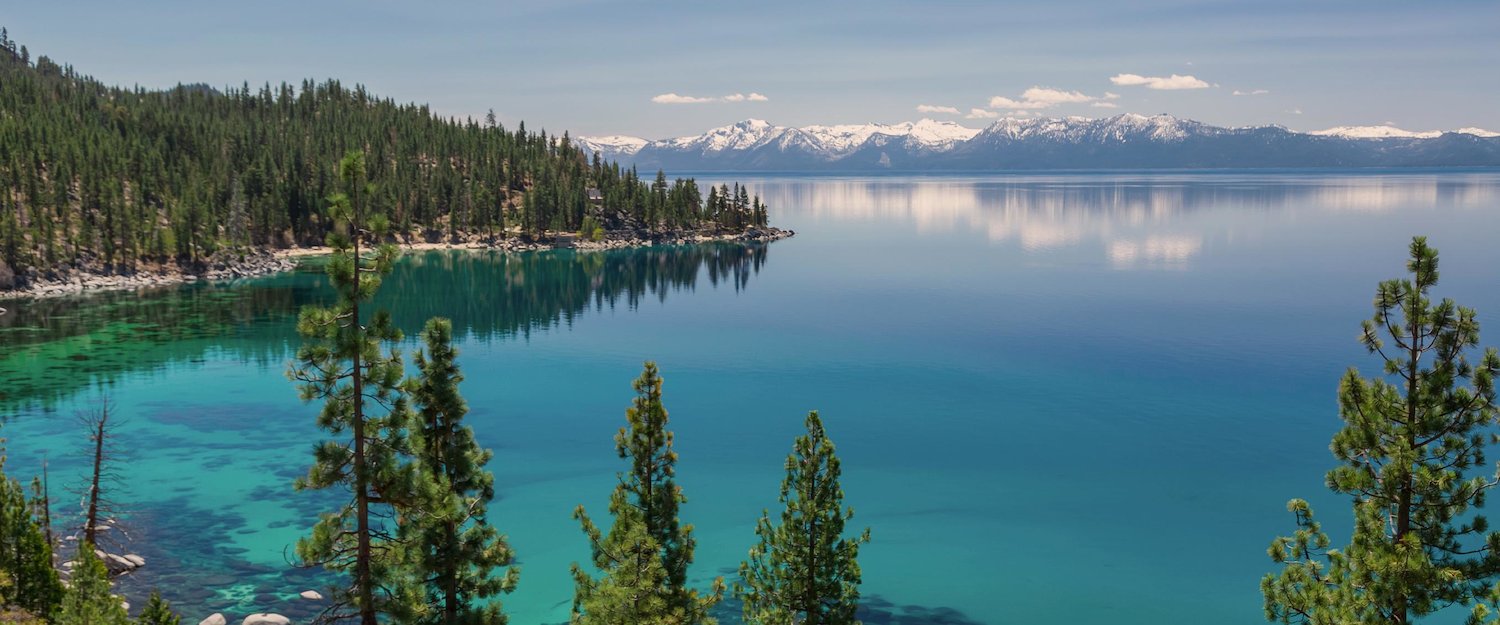 Holiday Homes & Baches in Lake Tahoe
Start comparing over 1185 rentals by Lake Tahoe and book at the best price!
Holiday Rentals and Lettings in Lake Tahoe
Find Holiday Rentals & Lettings by Lake Tahoe
Highlights by Lake Tahoe
Beautiful holiday homes close to the lake
Wonderful views
Best landscapes
Magical walks
Boat trip to beautiful places
Extreme adrenaline
Most popular by Lake Tahoe
Other property types by Lake Tahoe that might be interesting:
Prices and availability
Prices
June
July
August
September
October
Average price per week
Availabilities
June
July
August
September
October
Percentage of available homes
Holiday homes and baches in Lake Tahoe
Beautiful holiday homes close to the lake
If you have an adventurous spirit, full of life and want to enjoy a great holiday, Lake Tahoe is the perfect place. You'll find a host of holiday homes throughout the city that will truly amaze you. From Tahoe City to Alpine Meadows and from South Lake Tahoe to North star, you'll find plenty of rentals and discover all the things Lake Tahoe has to offer that are sure to make it a unique place to spend some quality time. Marvel at the views of the Emerald Bat, relax in front of the lake, or gaze at the vastness of Heavenly Mountain. Don't wait any longer, make your reservation at Lake Tahoe!
Holiday homes for all the needs and tastes
The surroundings of Lake Tahoe tend to have a heavily wooded and natural vine-related feel, the vast majority of rentals and homes are designed with wood and decorated for outdoors. However, the place offers a huge variety of designs with different colours depending on the tastes and needs of each client. Lake Tahoe has rentals both for people who like to travel alone or as a couple and for those who prefer to travel in groups or as a family. From small but cosy two-bedroom rentals, to properties with 6 bedrooms and 3 bathrooms, perfect for 12 people to be comfortable, with a swimming pool and transparent nets or with a Jacuzzi in the middle of the forest. Enjoy a beautiful sunset on a cozy terrace while having tea. Can you imagine it? Make it happen in Lake Tahoe!
Holidays in Lake Tahoe
The area and getting around
The most impressive views
The entire north that surrounds the shore of Lake Tahoe is full of places of overwhelming beauty that fill it with the most impressive views. From west to east, there are places like Ridgewood, which is a beautiful restaurant where you can eat while contemplating the beauty of the northern part of the lake; There is also Carnelian West Beach, which is a beautiful beach with very calm waters in which it is common to observe ducks on the shoreline of the beach, so you can see the mountains on the south side of the lake which gives it an extraordinary panoramic view; and of course you cannot miss Sand Harbor Beach, which is a beautiful beach with crystal clear waters that, in contrast to the beautiful mountain that surrounds it, gives a dreamlike landscape.
Best places to eat
Even though all of Lake Tahoe is surrounded by good places to enjoy all kinds of delicious food, the southeast of the region is probably where you will find the most and undoubtedly the best restaurants. In the south you can find Italian food restaurants such as the great Grand Central Pizza & Pasta. As well as places with traditional Mediterranean food such as the Artemis Mediterranean Grill, you will also find places serving Chinese food, Indian food and of course American food.
Travellers and activities
Lake Tahoe for nature lovers
Lake Tahoe is one of the most beautiful places in the United States, it has mostly rural landscapes that offer a great show for nature lovers. For example, Eagle Falls, which is a wonderful almost magical waterfall that gives you the opportunity to enjoy the beauty of a crystal clear waterfall over an intense green forest. Fallen Leaf Lake for its part is a lake that has an impressive beauty, since the basin where the water rests is surrounded by an imposing mountain that gives an aspect of majesty to the whole place; or Emerald Bay, which is a beautiful bay with blue and turquoise colours that give it a surprising vivid impression. Every place in Lake Tahoe is conducive to enjoying fresh air and all the beauty of nature.
Lake Tahoe for landscape lovers
Lake Tahoe is an area known worldwide for offering many of the most beautiful landscapes in the world and for all the outdoor activities that can be done in its spaces, It is common that in the mountains that usually have snow, visitors decide to climb and join the fun of skiing in such a place. Speed, fun and a great rush of adrenaline. North star California is one of the best places to ski since it is a mountain that has several slopes with different levels of difficulty, both for people with a lot of experience skiing and for people who want to learn, this mountain also has one of the best landscapes on the Lake Tahoe through which you can stroll and enjoy the clean air and beauty.
Did you know that Lake Tahoe is the second-deepest lake in the United States after Oregon's Lake?
Top 5 travel tips in Lake Tahoe
1. Take a ride on an outstanding boat
Emerald Bay is a lake in the area that is considerably shallower than Lake Tahoe and thanks to its crystal clear water, it gives a reflection effect that makes it reflect the greens and blues of the beautiful sky. There is a boat that offers a two-hour boat ride on the lake to appreciate all its beauty, taking the boat ride at sunrise or sunset makes the place fill with a magic that is unique in the world.
2. Go hiking in a dream mountain
Desolation Wilderness is one of the best places to hike in Lake Tahoe because it has several different paths, some steeper than others so you can choose according to the type of exercise you prefer to do, it is also a beautiful thing that is surrounded by a mountain in which the rocky soil predominates, which makes the contrast produce a particular beauty that is undoubtedly worth seeing. Take your hiking things, hike one of the trails and drink and enjoy the clean environment in this wonderful place.
3. Slide on the water and have fun
This is a beautiful lake, with a particular oval shape that thanks to its geographical accessibility gives the opportunity to do various water sports, there are also services that offer everything you need so that in addition to enjoying all the beauty of this ancient lake, the reflection of the sky over the crystal clear water and pure air you can also experience the rush of adrenaline generated by water skiing in such a beautiful place
4. Ski your heart out!
Heavenly mountain is almost entirely a centre for skiing, so when you come to ski here you will find one of the best infrastructures on the planet to make this activity as comfortable as possible. The ski tours are presented in various levels of difficulty and height, from people who are learning to use skis to those who already have great experience with this sport, for their part, the lifts cover the entire height of the mountain so that It is not necessary to do long walks on the snow to reach the best slopes
5. Go fishing to the river
Taylor Creek is a beautiful forest that surrounds part of Lake Tahoe that has vegetation with a lot of diversity and a very varied wildlife. It also has several streams in which trout abound so you can fish one without much difficulty, it is also common to see bears in their natural habitat so you have to be careful when moving around the place.
FAQs: Holiday Rentals & Lettings by Lake Tahoe
What is the average price for holiday homes in Lake Tahoe?
Impacted by the big changes in the travel industry due to COVID-19, the year 2020 had an annual average of NZ$681.40 per night. Lake Tahoe is the destination in the USA that offers the highest prices in holiday homes.
When can you get the best deals on holiday homes and baches in Lake Tahoe?
Travellers who want to save as much as possible should visit Lake Tahoe in May, April, and October which are the months that offer the most discount, with average prices of NZ$598.35, NZ$609.61, and NZ$615.74 per night, respectively, based on data collected in 2020.
In which months is it more expensive to rent a holiday home in Lake Tahoe?
When it comes to renting a holiday home in Lake Tahoe, the highest prices are usually seen in the month of December (with an average of NZ$745.95 per night), followed by January (NZ$744.01), and August (NZ$739.38).
Do I need to plan a trip to Lake Tahoe well in advance?
It is recommended that you book your stay in plenty of time when visiting Lake Tahoe, as only 16% of our properties are usually available throughout the year.
What time of the year can I find more available holiday homes?
The most available months, on average, are May (with an availability of 32.6%) April (32%), and March (30.5%), according to the trends observed in 2020.
When are there fewer holiday home options available in Lake Tahoe?
Holiday homes in Lake Tahoe reach their peak in demand in August, with an availability rate of 3%. The second most requested month is July, with 3.5%, and the third is September with 7.5%.
How many holiday homes does Holidu have in Lake Tahoe?
Holidu collaborates with 8 different partners to give you a choice between 4800 properties we have in Lake Tahoe.
Holiday destinations nearby
Holidu compares hundreds of websites to find your perfect holiday rental for the best price.