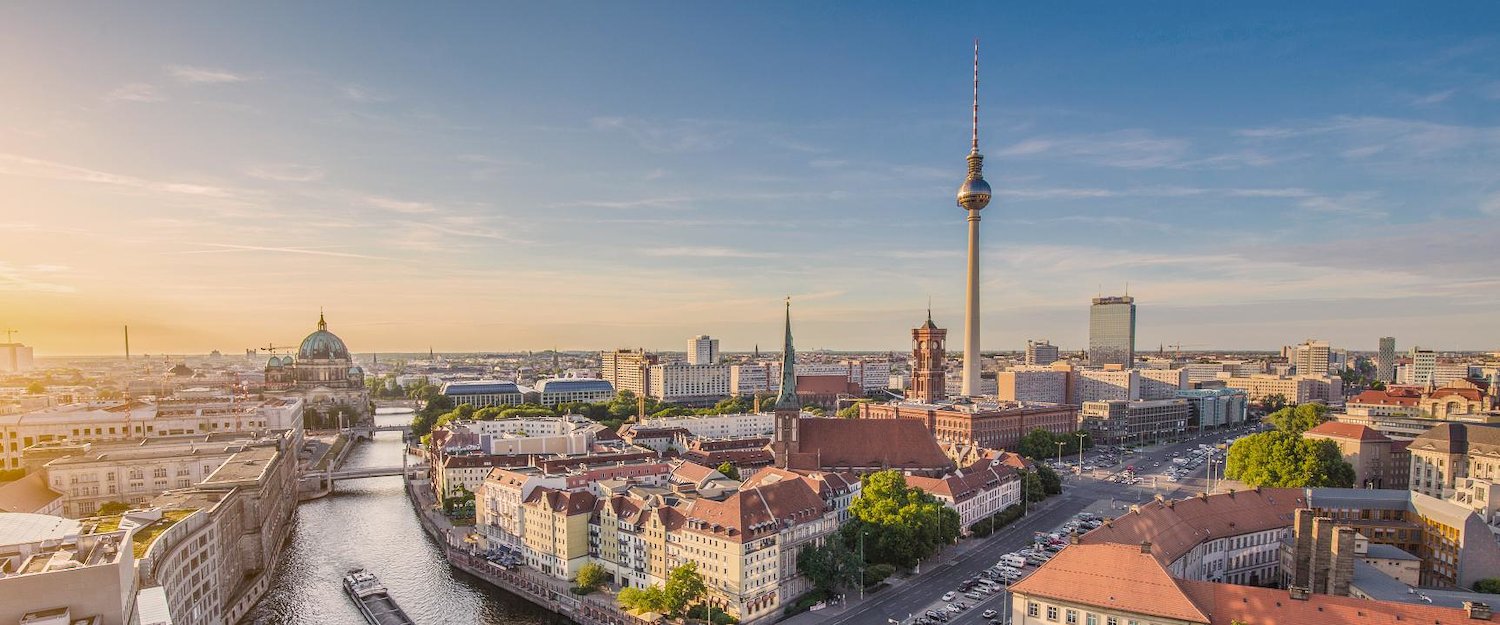 Holiday Homes & Baches in Berlin
Start comparing over 1487 rentals in Berlin and book at the best price!
Holiday Rentals and Lettings in Berlin
Find Holiday Rentals & Lettings in Berlin
Highlights in Berlin
Historical sites
Museums
Beaches
family activities
Nightlife and Nature Reserves
Prices and availability
Prices
June
July
August
September
October
November
Average price per week
Availabilities
June
July
August
September
October
November
Percentage of available homes
Holiday homes and baches in Berlin
Luxurious house homes in the nearby areas
Berlin is known for its cultural diversity, historical sites, and beautiful architecture. If you are looking for adventure, the city is a prime location with vibrant nightlife, creative talent, numerous galleries, beautiful nature reserves, and museums. One of the hardest things as a visitor in a new town is getting the right accommodation around. Berlin offers many holiday homes which gives you a chance to explore the cosmopolitan city like a local. You can choose to reside in Kreuzberg or Mitte for easy access to art galleries, boutiques cafes, and bars. If you prefer downtown then you can stay in Steglitz, there are also various accommodation options near Tempelhof Park, in Wilmersdorf and Spandau.
Holiday homes in the heart of Berlin for an unforgettable stay
Berlin offers a wide choice of holiday homes for all types of travel be it a family holiday or a group tour. The rentals provide enough playgrounds that are kid and pet-friendly. The house homes come with different rooms for those looking for spacious accommodations to hold large parties or families. The holiday houses give you a homely feeling with a well-equipped kitchen where you can prepare your favourite dishes, and you are guaranteed complete privacy. Some homes provide extra comforts like access to private pools, various restaurants, beaches, and bike paths for a perfect holiday.
Holidays in Berlin
The area and getting around
Dream holiday in the beautiful districts
Berlin is one of Europe's most fascinating cities, which perfectly mixes culture and hedonism to offer excitement in every corner. It is comprised of 12 unique districts, which have different attractions and experiences. Visit Friedrichshain for cultural activities as you explore various cafes, boutiques, music venues, and industrial art spaces. In Kreuzberg, you will find most bars open for longer hours, numerous fast-food joints and different street food options. Mitte is the city's most relaxed area which hosts the most renowned art galleries, cultural institutions, and a diverse range of traditional and modern eateries in the surrounding streets. Treptow is greener and quitter where you can experience nature and impressive monuments.
A fun-filled city
If you want to swim, consider visiting south-west Berlin where you will find several lakes with outstanding beaches which offer peaceful sections for nature walks, jogging, and relaxing. In northern Berlin, several islands are ideal for boating while in the northeast you will find several family-friendly stunning lakes on the outskirts. In the Northwest part of Berlin, you also find the district of Wedding which holds arrays of artistic events and is considered an ideal gem with excellent proximity to the city centre.
Travellers and Activities
Berlin for history lovers
The city has incredible historical sites for those interested in Berlin's past. Visit the DDR museum to get a clear insight into how the ancient people lived, also, tour the Stasi prison to get a better understanding of the regime. Ensure that you visit the Berlin Wall and view the artistic exhibitions depicting international coexistence. Visit the Reichstag building and understand its sad history through the art expositions. The Holocaust memorial is a constant reminder of the horrors of war, especially the terrible Jewish persecutions. Pass by the Brandenburg gate which is a symbol of unification in Germany.
Berlin for families
The city has various family-friendly spots with engaging activities to make your holiday memorable. Visit the Berlin Zoo for an incredible diversity of animal species, but if you want to admire coral reefs, fish, and jellyfish, go to the Aquarium Berlin. The Museum of Natural History is a popular attraction for kids where they get a chance to learn about ancient beasts like dinosaurs and monster lizards. The Gardens of the World offers significant playing grounds in a floral paradise with cable cars and viewing platforms.
Did you know that Berlin is the greenest city with most of its area covered with rivers, woods, green spaces, and waterways?
Top 5 travel tips in Berlin
1. View the sunset from the Berlin TV tower
It is one of the highest buildings in the city which will give you a full view of the entire Berlin. Climb up on the tower for an incredible view of the sunset.
2. Try out some currywurst
It is one of the most popular street foods in the city. It could be your best option while travelling on a fixed budget and when you don't have enough time for a proper meal.
3.Go on a bike tour
Hire a bike and explore the city's iconic sites that are quite spread out. Stop at the Brandenburg gate or Reichstag to understand the historical stories in these places.
4. Relax at Tiergarten Park
You can either enjoy a picnic, take nature strolls, rent a boat or enjoy a beer in the garden.
5. Shop at a Flea market
You can buy various items, including clothes, shoes, furniture, jewellery, bags, and many more. One of the most popular market days is Sunday.
FAQs: Holiday Rentals & Lettings in Berlin
On average, what was the cost for holiday homes in Berlin in 2020, during coronavirus pandemic?
You have chosen the most affordable city in the whole country, at onlyNZ$268.04 per night (2020 data).
Which month allows you to save the most on holiday homes and baches?
If you seek to make the most of your money, the most budget-friendly months to visit Berlin are January (NZ$237.88 the average price per night for accommodation), November (NZ$243.45), and June (NZ$252.84).
In which months is it more expensive to rent a holiday home in Berlin?
In 2020, the month that offered the highest average prices in Berlin was July, with an average price of NZ$294.56 per night. This was followed by April, with an average of NZ$290.04, and May, with NZ$284.83.
Is Berlin a good location for a last-minute getaway?
It's worthwhile if you book your stay in plenty of time when visiting Berlin, as only 32% of our properties are usually available throughout the year.
When are more holiday homes available?
The months that offer the most accommodation options, on average, are April (with an availability of 48.5%) May (46.8%), and November (41.25%), according to the trends observed in 2020.
During which months are there fewer holiday homes available in Berlin?
The months with the lowest properties available in Berlin are, in order, August, July and January, with respective average availability figures of 16.8%, 21.5%, and 23%, based on data collected in 2020.
How many holiday homes does Holidu have in Berlin?
In Berlin we have a comprehensive catalogue of around 1400 properties, with options of all kinds, thanks to our 26 local and international partners.
Holidu compares hundreds of websites to find your perfect holiday rental for the best price.